memory_archive is a massive, interactive installation about the implications of digital identity.
Set in a surrealistic data corporation, memory_archive is equal parts political art and technological wonder. As visitors walk through the four-story installation, the piece actively scrapes the social media data of its audience members, leading them through an unforgettable and somewhat disconcerting experience. Built with a team of thirty five designers, programmers, choreographers, performers, and filmmakers, memory_archive is a surreal fall down the rabbit hole of the digital identity.
Photography by Pang Fei Chiang and Pearse Anderson. Videography by Julia Davis and Maya Moskowitz.
Program Notes:
We humans are quite troubled when it comes to communication.
Globalism has made us all so interdependent—and scattered—that we have stuck ourselves in a search for a communication medium as erratic as we are. For all the successes of the printed word, telephone, or carrier pigeon, their lack of instant dissemination cannot compete with the greater motions of a globalized world. Since the 1960s, we have pined for a medium free from the inconveniences of geography. We have been pushed to devise a method of communication that, quite literally, creates location-free surrogates of ourselves. This medium is the digital profile.
Despite the kitsch of Facebook, the mass adoption of the digital profile has brought us to a place that is almost metaphysical. With a world filled with web- based identities, one is both universally present and, in a somewhat religious sense, immortal. Over the last five years, I have interacted with more people through my digitally-curated persona than I have in real life. In fact, according to a recent survey, the typical Facebook profile interfaces with more people in a single day than the average 17th century person would in a lifetime. While we can praise this, the curation of a virtual persona poses something rather existential—where do we draw the boundary between one's physical and virtual identity? And what would happen if the characteristics of the digital world started to permeate our physical lives? This was our goal in designing the liminal corporation you now stand in, the universe of memory_archive.
In this surreal world, identity becomes a proprietary commodity. Your virtual self lives not in a cloud, but in a high security cluster of corporate-controlled server farms. Of course, our digital identities are very much proprietary. Every action taken by our Facebook, Twitter, or Google profiles is closely monitored, and legally sold to a suite of over 3,500 data brokering companies. There is presently no legal recourse to prevent these brokers from distributing this information to third parties, including propaganda teams, fringe political factions, or government surveillance agencies. Paradoxically, the persona you use to communicate most frequently is also one you have no practical control over.
As you travel through our archive, we hope you consider the ease at which your information was freely and legally handed over. We also hope, in turn, that the archive prompts reflection on the potential sensitivity of this otherwise asinine information. In an age of skepticism towards rational discourse, your history may not be written by you, but by those who own your better-known digital counterpart.
We hope you learn as much from this installation as we did making it.
Kirk Pearson wrote this message at 10:45 AM, Wednesday March 1st.
memory_archive is built into Bosworth Hall, an iconic structure designed by Cass Gilbert in 1931. Gilbert served as the consulting architect to Oberlin College in the beginnings of the 20th century, and undertook the design of several campus buildings. Bosworth was completed with a generous contribution of $400,000 from the Rockefellers. At the behest of the college, Gilbert met directly with John D. Rockefeller Jr. to obtain the final $100,000. Bosworth was Gilbert's last building, completed just three years before his death in 1934.
The building, in addition to housing the gothic Fairchild Chapel, has since become to home for the college's official records. Thus, visitors proceed through Oberlin College's literal memory archive, alongside an icon of depression-era religious revival.
Press: The Oberlin Source, The Grape
Walkthrough
Calcinatio: The Immigration Office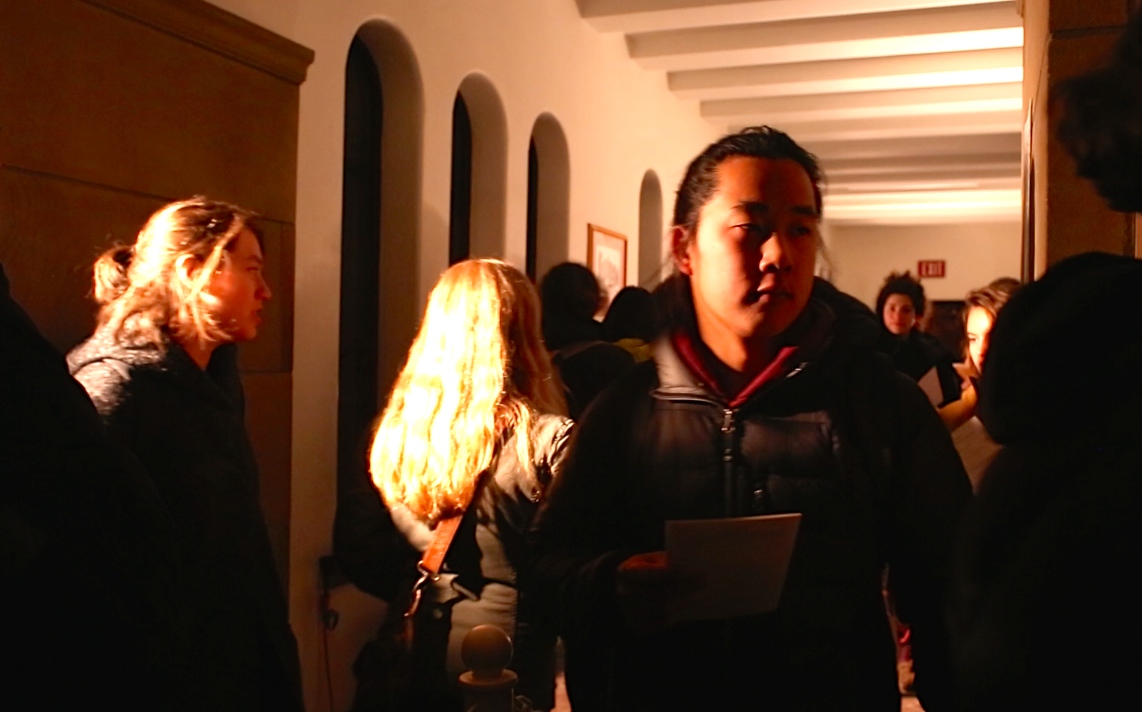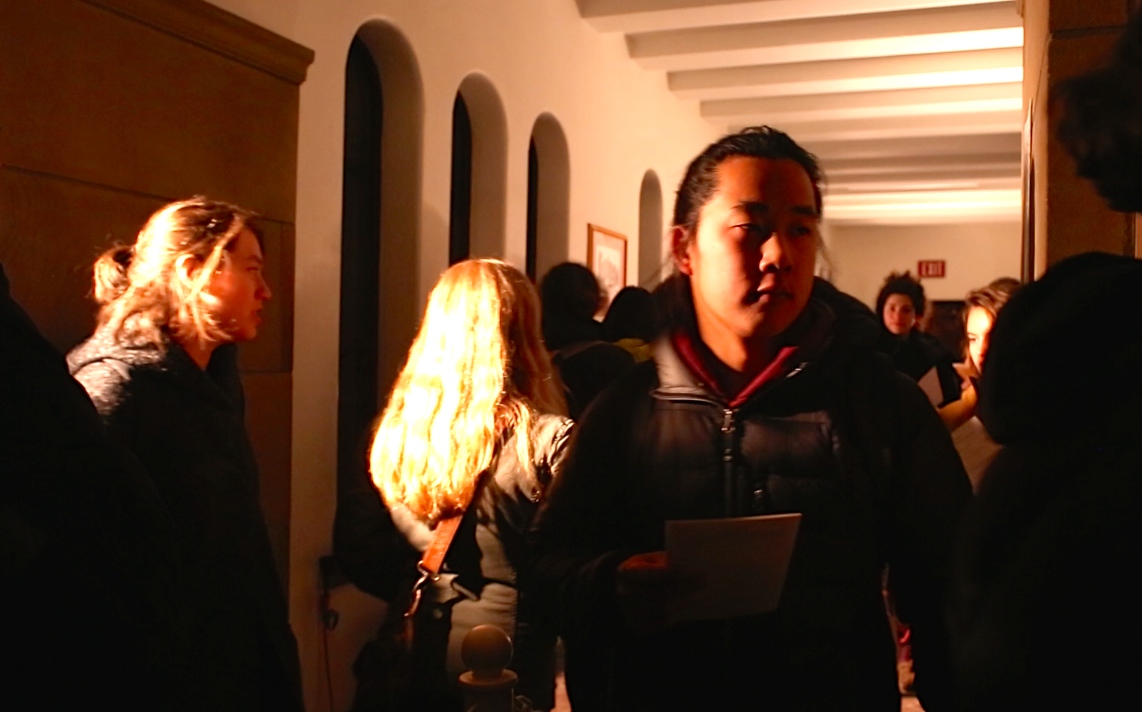 As visitors enter the piece, they are first greeted by a clinical immigration office. Guests are instructed to "log in" in order to verify their digital identity, acquiescing their Facebook credentials and phone number to custom-built software.
An image of the guest is taken, and an identification number is issued. Visitors are instructed to hold this number until it is called in the following section, the clinical holding pen of Purgatorio.
Purgatorio: The Waiting Room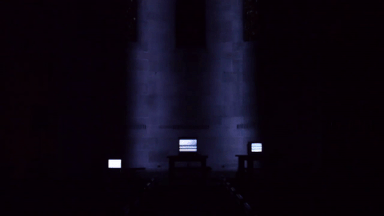 Set inside the Cass Gilbert-designed Fairchild Chapel, Purgatorio functions as both a religious sanctuary and clinical waiting room. A projection mapped film is seen on the chapel's apse, illustrating the geometric deconstructions of the 19th century building. Meanwhile, a series of analog TVs blare static as a four-channel composition plays on the speakers that surround the audience.
As guests hear their numbers called, an algorithm scrambles their order. Thus, visitors enter the following rooms surrounded by a crowd different than the one they entered the installation with.
Exiting the chapel, visitors proceed through a series of increasingly surreal libraries leading to the building's basement. Tables are dotted with literary texts and decade-old yearbooks, with chess pieces scattered between them.
Coagulatio: The Server Farm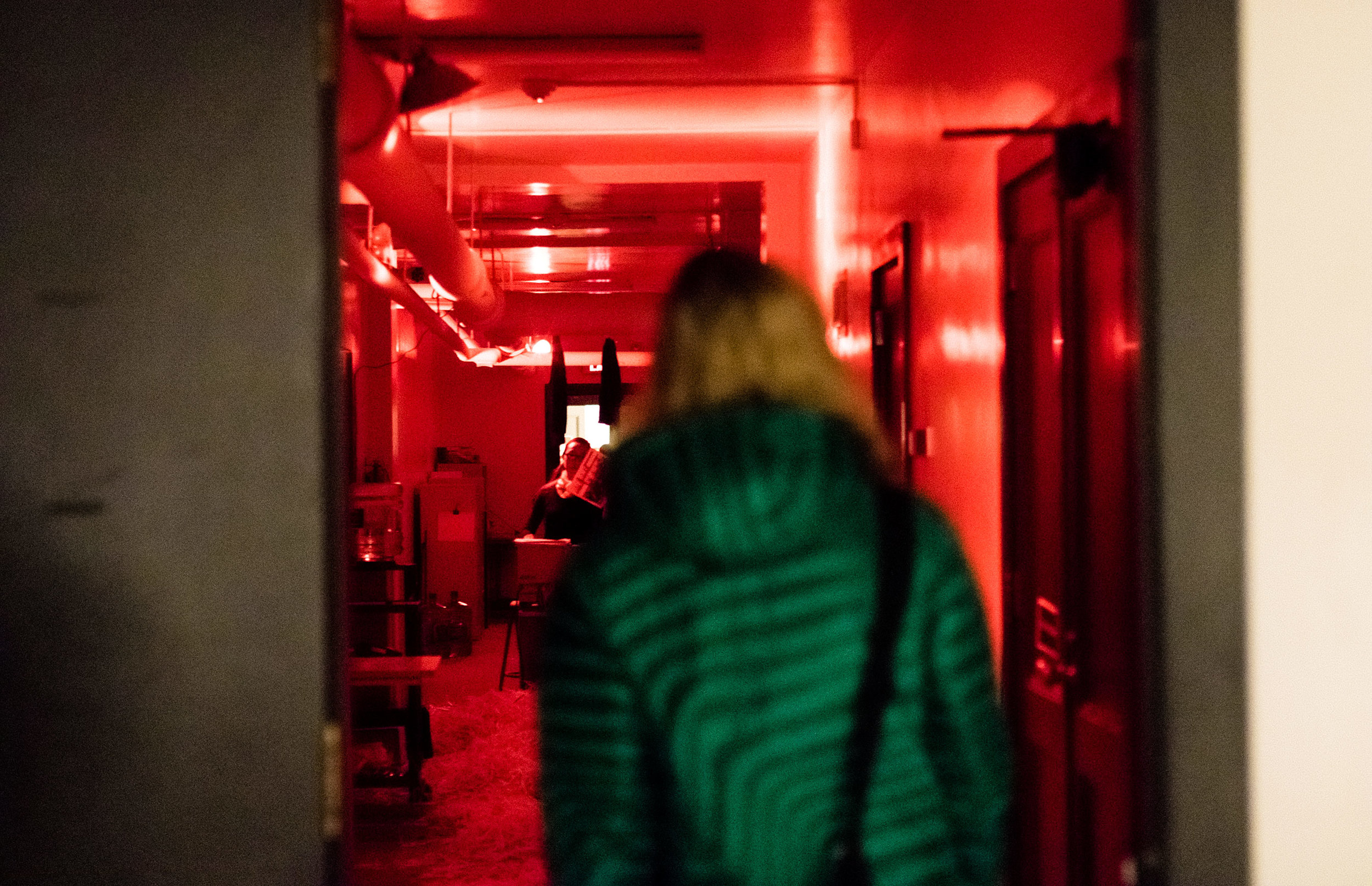 Moving from the high-contrast library, visitors soon find themselves in the disorienting red lighting of the building's lowest level. Bright flashes of light lead them through the demonic server farm of the memory_archive corporation, where their personal documents explode out of an industrial paper shredder and down the hallway they entered from.
Speakers placed throughout the sixty foot corridor form a gradient that slowly changes timbre as guests continue towards the door at the end of the hallway.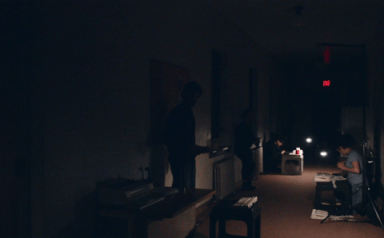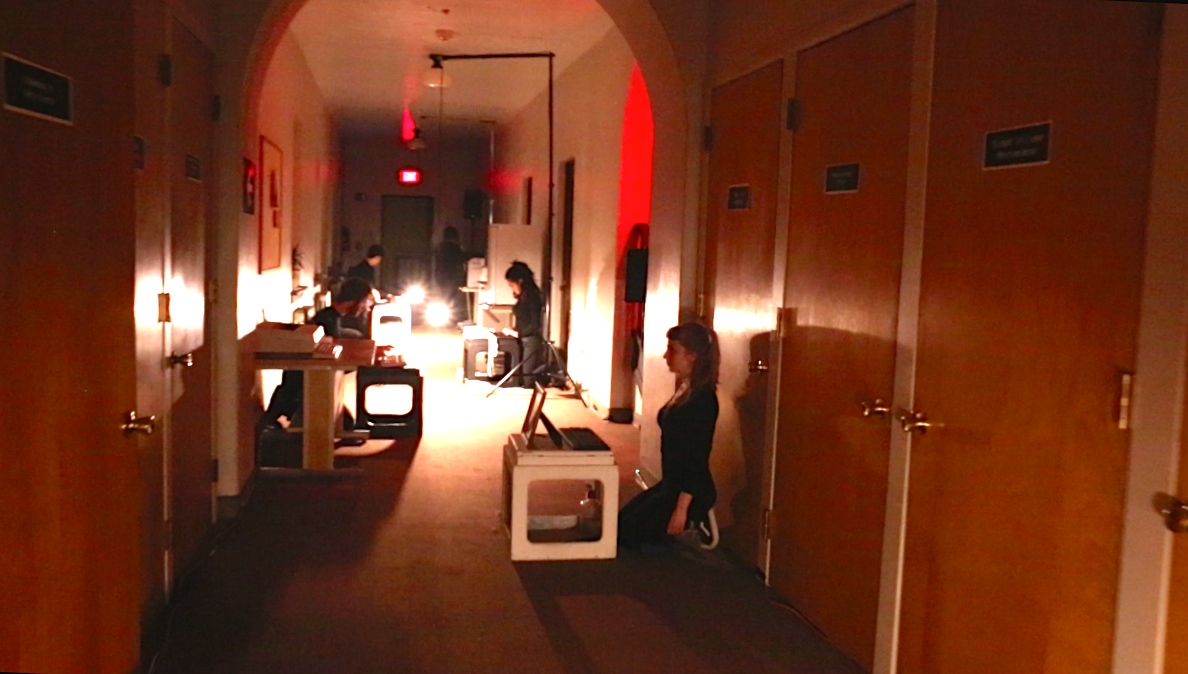 After walking up a two story spiraling staircase, the audience comes face to face with their data in an anachronistic office space. Mechanically choreographed workers stream up and down the hallway, answering phones, watering plants, and filing away the personal Facebook photos of audience members.
Visitors are invited to look through the photos as they stream out of the industrial printer and sit on desks, get pinned to corkboards, or selectively taken to the shredder located two stories below the office.
Mortificatio: The Board of Directors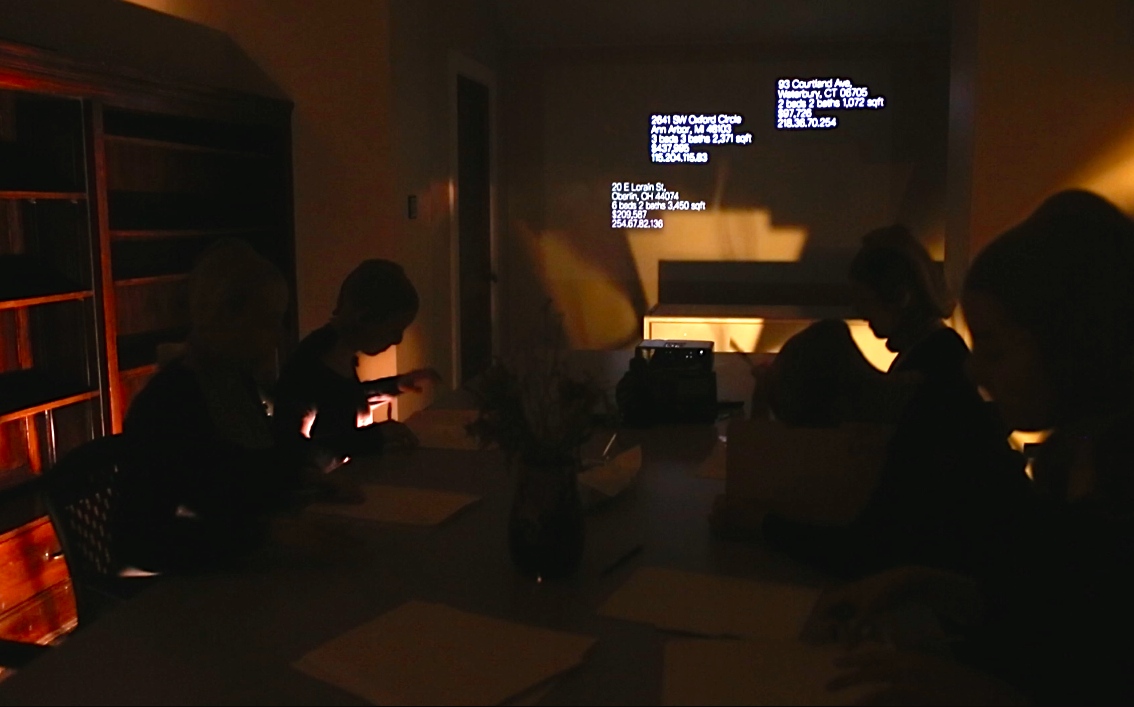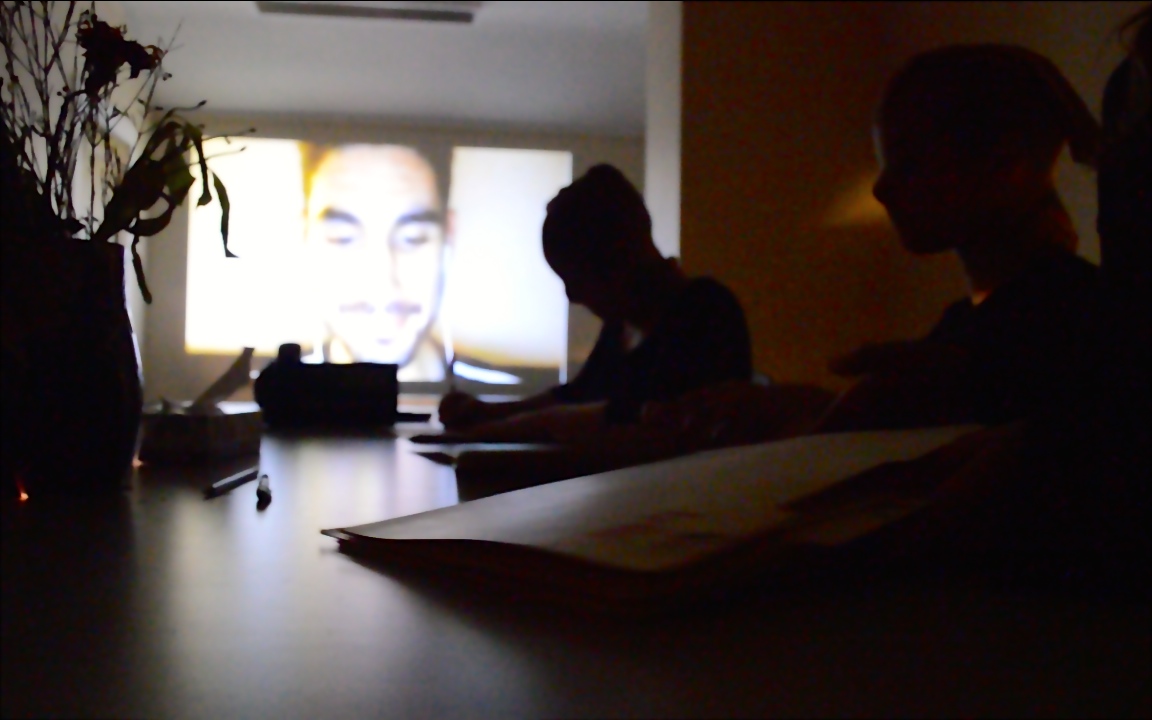 In the installation's fourth story, and emotional climax, visitors witness memory_archive's surrealistic board of directors. They pass papers that are, every fifteen minutes, taken down to the offices of Sublimatio, and eventually to the industrial paper shredding operations of Coagulatio.
Seated around a conference room table, the board passes around envelopes with visitor's names printed on them. The screen behind them broadcasts audience members' home mailing addresses, estimated property values, childhood photos, and live webcam feeds from across the Internet.
Descending from the office space of Sublimatio, guests encounter their data one last time. A massive collage of faces from Calcinatio glitches on the wall of the final stairwell--a visualization of the guests currently in the installation, and a reminder that their identity is now locked in the perpetual memory of a data brokering firm.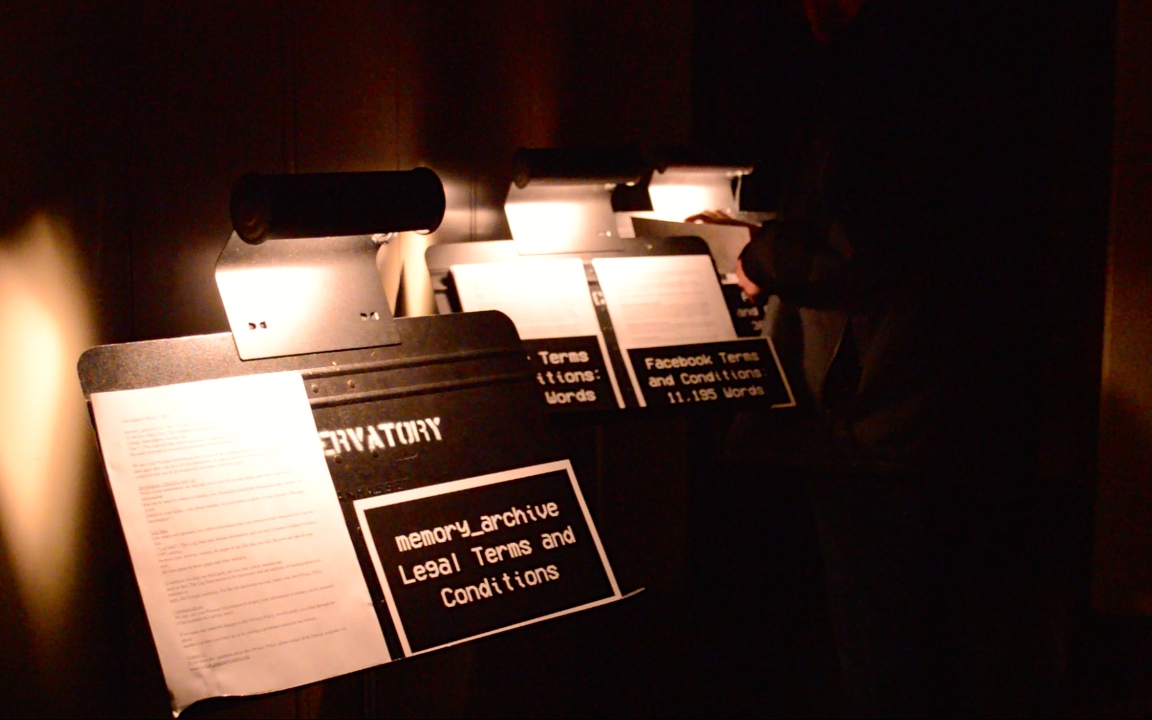 In the final hallway before the exit, visitors pass the terms and conditions they had to consent to before the installation. This 350-word document is what guaranteed the legal permission for their data to be used. Following, visitors see the actual printed length of the terms and conditions for Twitter, Facebook, iOS, and the 36,000-word contract for PayPal.
Two hours after leaving, visitors receive a text message thanking them for attending the installation, serving as a reminder that memory_archive still has their data, and legally always will.
Artists
Kirk Pearson (Director, Composer, Lead Designer) is an electroacoustic composer and digital artist from Brooklyn, NY. His compositions have appeared on NPR, the BBC, TEDx, and PBS. As an installation artist, he has worked on installations for the American Museum of Natural History, The New Museum, and Panorama Music Festival. He will graduate from Oberlin College in 2017 with degrees in composition and film and is a 2017-2018 IBM Watson Fellow.
Creative/Technical Teams (Alphabetical)
Hayden Arp (Designer, Solutio / Coagulatio) is a musician, artist, and activist from Alexandria, VA. He attends the Oberlin Conservatory of Music in Ohio, where he studies electronic music composition. He has performed at venues such at DC's The 9:30 Club and New York's Terminal 5, and has had his work described as "Tingling, gorgeous" by The FADER and "Beautiful and elegiac" by Thrdcoast. He has worked with musicians such as Lucy Dacus, The Punch Brothers, and Aoife O'Donovan. He is a co-founder of the open-access arts group, The Moments Collective and is the lead singer for the band, The World All Around.
Luke Burns (Socket Engineering) is a programmer and mathematician interested in methods to streamline community dialogue. Luke is a graduate of the Recurse Center and Oberlin College, where he majored in theoretical physics.
Alfredo Colón (Graphic Design) is a visual artist, saxophonist, composer, and New York native. He has studied with musicians such as Lee Konitz, Gary Smulyan, Jason Rigby, John O'Gallagher, Steve Wilson, and Adam Larson. The saxophonist has performed at venues such as B.B. King's, The Louis Armstrong House, Birdland and The Appel Room at Lincoln Center. He draws influence from musicians such as David Binney, Lee Konitz, Wayne Shorter, Jackie McLean, Pete Robbins and countless others. Alfredo is currently a student at The City College of New York.
Andres Cuervo (Programmer) is a designer and developer — based out of San Francisco — who helped build the website and Facebook application for the memory_archive. You can find them at vr.cwervo.com & cwervo.com.
Mary Fischer (Choreographer, Sublimatio) is a senior at Oberlin College graduating with a major in Creative Writing. Her more recent work however extends into the electronic and electro-acoustic music field as well as a combination of immersive and interactive media installations. Whilst she was never formally trained as a dancer or choreographer, she experienced alternative schools of movement and body work from an early age on, being exposed to Body Mind Centering and the 5Rhythms through her mother, as well as taking classes in experimental music theatre at the Young Opera in Stuttgart and contemporary dance classes and physical theatre classes at different schools in Germany. At Oberlin she performed in plays, student show cases and collaborative performances, as well as presenting her own work in exhibitions.
Helen He (Programmer). Composer, programmer. currently working on some choral pieces and dance scores, and building synths with plants.
Sage Jenson (Graphics, Solutio / Projection Mapping, Purgatorio) is a multimedia artist interested in constructed realities. They are a student at Oberlin College and Conservatory studying mathematics, computer science, and TIMARA (technology in music and related arts).
Noah Regen (Film, Mortificatio) is a filmmaker based in Oberlin, Ohio.
Logistics Team
Amanda Siskind (Stage Manager) is a stage manager for large-scale artistic projects. Siskind studies politics with a concentration in peace and conflict studies at Oberlin College.
Kelsey Sharpe (Assistant Stage Manager) is a student of film and anthropology at Oberlin College.
Performance Team (In order of appearance)
Camille Vogley-Howes (Performer, Calcinatio), 19, is a sophomore jazz and comparative American studies student at Oberlin College and Conservatory who hopes to pursue a career in making weird and beautiful art with their friends.
Joshua Augustin (Performer, Calcinatio) is a student of music technology at Oberlin College.
Miriam Liske-Doorandish (Cello, Coagulatio) s a cellist with a knack for eluding genre. She has studied with Jonathan C. Kramer, Hans Jensen, Bartholomew LaFollette and Amir Eldan while continuing to collaborate with her mother, cellist Lisa Liske-Doorandish. Miriam is motivated by a deep love of chamber music and a love of collaboration which has led her to traditional chamber music settings as well as traditional fiddling sessions. She has attended chamber festivals such as Bowdoin International Music Festival, Methow Valley Chamber Festival, Musique à Marsac and Soundfest Chamber Festival, has worked with members of the Emerson, Ying, Doric, St. Lawrence, Cavani, Calder, Carmina, and Colorado and Chiaroscuro Quartets. She frequently improvises in various genres of music, and has particularly enjoyed delving into both historical performance and contemporary music at Oberlin Conservatory.
Julia Pyke (Flute, Coagulatio) s a flutist at Oberlin Conservatory, where she studies under Alexa Still. Julia began her flute studies in 2003 with Celine Ferland and was a student of Bonnie Blanchard from 2006 to 2011. She then studied with Dr. Merrie Siegel from 2011 until graduating from high school--the International School in Bellevue, WA--in 2015. Julia has taken master classes from Dr. Donna Shin, Gary Shocker, Jenny Engert, Christina Jennings, Ann Marie Yasinitsky, Dr. Hal Ott, Laura Barron, Dr. Leonard Garrison, Dr. Marianne Gedigian, and Claudia Anderson.
Tian Teh (Performer, Coagulatio) is an interdisciplinary composer, performance artist, vocalist, mover and healer. She invests in nurturing potentials out of people in her artistic collaborations.
Louis Pino (Percussion, Sublimatio) is a fourth-year student at Oberlin Conservatory studying percussion with Michael Rosen and computer music with Aurie Hsu. Pino began his musical career playing drum set and hand drums with several local ensembles. He then moved on to study with Jonathan Haas, Pablo Rieppi and Greg Giannascoli at Juilliard Pre-College, where he received the Commencement Award upon graduation. Since arriving at Oberlin, Pino has had the opportunity to collaborate with other conservatory students and has come to premiere over 50 new chamber and solo works. He performs with the Oberlin Orchestra, Mozart Project, the Improvisation, and New Music Collective, and Brazilian Drum Ensemble. Pino also teaches a small studio of students as well as coaches the Northern Ohio Youth Orchestras Percussion Ensemble. As a composer, Pino is interested in writing all electronic and electro-acoustic music for both electronic artists and acoustic musicians.
Isabelle Kenet (Performer, Sublimatio) s a student at Oberlin College.
Maya Martin (Performer, Sublimatio) is a performer and a writer interested in poetry and speculative fiction. Martin is currently in the ensemble of the OMTA production of Assassins by Stephen Sondheim, which will be performed from April 27th-29th in Wilder Main, Oberlin, OH.
Paul Lawrence (Performer, Sublimatio) is a student at Oberlin College.
Leah Newman (Performer, Sublimatio) is a curator, dancer, installation, video, and performance artist based out of New York City. Her practice as both artist and curator is highly collaborative and incorporates various mediums.
Sophia Attebery (Performer, Sublimatio) is a second year studying dance and arts management at Oberlin College. Her main media are dance and film, which she combines in her dance on camera work.
Tyus Southern (Performer, Sublimatio) is an aspiring dancer, choreographer, and musician. He is currently playing in a local Ohio band and will continue his studies in dance creation and performance at La MaMa Theater in New York City.
Feride Akalin (Performer, Sublimatio) is a performer and filmmaker from Istanbul, Turkey. She studies film at Oberlin College.
Nick Rowan Bassman (Performer, Sublimatio) teaches, writes, makes music with Flowerteeth, and keeps getting sucked into inter-disciplinary/-net/-pretive dance projects like memory_archive. Find Rowan's music at flowerteeth.bandcamp.com/ and social media ramblings at facebook.com/ackbasswards.
Abraham Ross (Organ, Mortificatio) of Holden, Maine performs regularly as a soloist and an ensemble player throughout the U.S.. After graduating as Organ Scholar from College of the Holy Cross, he enrolled in Oberlin's Master of Music program where he currently studies organ with Jonathan Moyer and harpsichord with Mark Edwards. His special interests include Italian keyboard music of the seventeenth century, the works of Olivier Messiaen, and new music.
Brady Marks (Performer, Mortificatio) is a student at Oberlin College.
Clio Schwartz (Performer, Mortificatio) is a student at Oberlin College.
Georgia Panitch (Performer, Mortificatio) is a politics and gender studies major at Oberlin College, studying to become a human rights lawyer. Panitch organizes Oberlin, Ohio's Big Parade, an annual community art project that occurs on April 29th.
Anya Spector (Performer, Mortificatio) is a student at Oberlin College.
Celie Johnson (Performer, Mortificatio) is a student at Oberlin College.
Documentation Team
Pang Fei Chiang (Photography) is a photographer born and raised in Malaysia. He is presently based in Ohio, where he works as a photographer and studies Environmental Science at Oberlin College.
Julia Davis (Videography) is a student at Oberlin College.
Maya Moskowitz (Videography) is a student at Oberlin College.