Things you can walk around, interact with, or otherwise get lost in.
Cotton Candy Universe (2015)
Role: Programmer/Studio Technician (With Antfood)
Cotton Candy Theremin is a spinning performance at the intersection of food, design, performance and technology. Developed by Philip Sierzega and Emilie Baltz, Cotton Candy Theremin remixes the interface of making cotton candy by transforming it into a multi-sensory orchestration of sight, sound, smell, touch and taste. By spinning a cotton candy cone over wisps of candy floss, guests trigger sounds and visuals that create an immersive environment, revealing the interplay between human and digital technology.
A team of technicians, composers, and producers at the creative audio studio Antfood, both composed the music and developed a custom-built interface that allowed visitors to dynamically control the track. "Cotton Candy Theremin" premiered at New York's Red Bull Space as a part of The New Museum's NEW INC incubator in July 2015. It was additionally featured in Panorama Music Festival's "The Lab" in July 2016.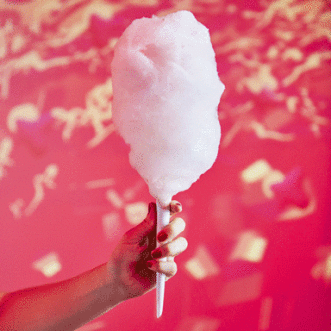 The audio controls are programmed in Max, which interpret hand motion via ten sensors surrounding the machine. The Max program translates and scales OSC data (via UDP) to specific audio controls in Ableton Live, including frequency modulation, beat repeat, and "one-shot" sample triggers.
Vientophone (2017)
Role: Designer
Vientophone is an aeolian harp, a stringed musical instrument strummed by the wind. Designed to resemble the oblong windows of Oberlin Conservatory's Bibbins Hall, Vientophone both plays—and is played by—the minute vibrations of air in and around the school.
The instrument is built from aluminum, in an homage to Charles Martin Hall, the Oberlin-born chemist who invented the process refining aluminum and founded ALCOA.
Fabricated by Steve Baisden, Advised by Dan Stitzlein and Aurie Hsu. Photography by Jennifer Manna and Tanya Rosen-Jones.
Reality TV (2016)
Role: Composer/Designer/Technician
Made with video artist and composer Sage Jenson, "Reality TV" is a surrealist walk through a media-fueled dystopia. Visitors descend down a spiral staircase and into a grey, concrete-floored warehouse where the lines between television entertainment and political commentary are blurred. Through multichannel spacialized audio, video, and digitally controlled lighting, this installation explores the implications of reality in a post-truth world.
The Power of Poison: The chocó Rainforest (2013)
Role: Sculptor, Fabrication Team
"The Power of Poison" is an immersive science installation designed by the American Museum of Natural History. The exhibit explores poison's paradoxical roles in nature, human health and history, literature, and myth. Whether as a defense against predators, a source of magical strength, or a lethal weapon used as lifesaving medical treatment, the story of poison is surprising at every turn.
The primary component is a two-hundred foot long diorama of Columbia's Chocó Rainforest, where poisons are just one of many tools in organisms' struggles to survive.
Ozymandias, or the irony of OBSOLESCENCE (2017)
Role: Composer/DEsigner/Technician
Written in 1818, Percy Shelley's poem "Ozymandias" describes an ancient statue of the pharaoh of the same name. The statue, once towering and bold, now sits broken and decaying in the sand. This installation features an analog television, a now-obsolete icon of mass media, reciting the poem in its display of cultural dominance. The television will some day be forgotten, left as a king with no kingdom. "Ozymandias" is a piece with a moral: there is no such thing as a permanent installation.
This piece was part of "Between You and Me," an exhibition at Barron Gallery in Oberlin, Ohio in April 2017.
Please talk to me (2015)
Role: Programmer/Composer
"please talk to me" is a real-time installation that explores the digital isolation of the surrounding 35 mile radius. The piece runs off a Max/MSP patch that interprets live, real-time, text sampled from Facebook, Twitter, Craigslist, Tinder, YikYak, OK Cupid, and hundreds of other sources. The information presented is not intended to be a writer's fantasy, but an honest representation of local digital communication at this very moment.
This piece has been displayed in several incarnations, originally intended to be played through six speakers spread out through a gallery space, inviting the audience to walk literally into a web of sound. The photos, shown below, are part of an adaptation made for the international exhibition "Postinternet is Dead," held in May, 2015 at the Allen Memorial Art Museum in Oberlin, Ohio.